ZT A2 UV Flatbed Printer 2pcs DX8/4720 Glass Platform
Product Detail
Product Tags
9. There are handles around the machine, user-friendly design, easy for the machine to move.
10. Free accessory packs.
11. A small fan is installed on the trolley board card to cool down the board card and prolong the service life of the board card.
12. Heating function of head, ( head has temperature requirements, such as in extremely cold areas, use this function to facilitate ink fluency).
13. All aluminum nozzle bottom plate.
Specification

Product name

A2 uv flatbed printer

Model

ZT-4060-2DX8-UV

Printhead

2 pcs tx800/dx8

Printing size

Max 40*60cm

speed

A3 area: 60seconds. 

A4 area: 170 seconds

Maximum Resolution

720*4320 dpi

Ink type

Hard/soft uv ink

color

W W VVK C M Y  /

 4 COLOR +WHITE+VAINISH

Printing Type

Glass,Acylic board,

Wood,Board,Metal,Leather and so on

Max Printing heigh

15cm for standared (20cm for special order)

Rip software

Maintop 6 uv version for standared & photoprint uv 12 for optional

Machine Dimension

97*101*56CM

Package size

114*109*76CM

UV lamp

2 UV LED LAMP For water coolling
Product solution: We have a team of engineers, contact engineers if you have any after sales service.
Instructions: We'll send a USB flash drive along with the machine, with all the software and instructional videos.
Maintenance: Frequent use of machinery.
After-sales service: We will give away a spare parts package for free, which will help customers with after-sales service. Warranty: 13months.
Product Advantages
It can print paper, plastic, gloss, leather, pvc, bottle, tile, book cover, phone case and so on.
1. LED touch screen, more convenient operation.
2. Precision milling aluminum beam lifting, beam lifting precision is high.
3. White ink stirring.
4. Automatic height measurement.
5. Automatic lifting and cleaning.
6. Original maintop software.
7. Stainless steel ink stack, corrosion resistance, long service life.
8. Machine working window. Easy to see inside.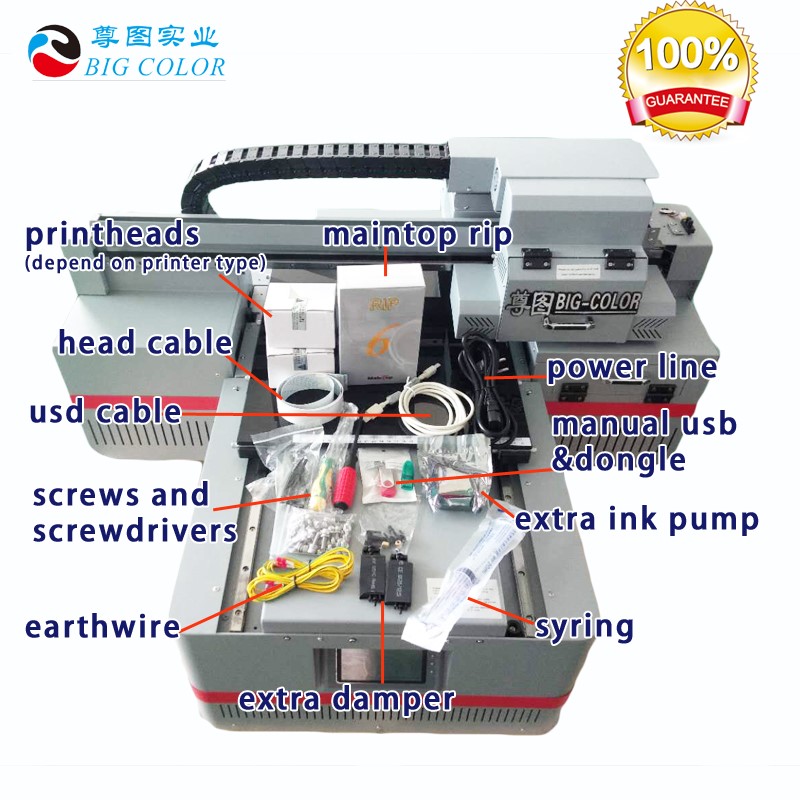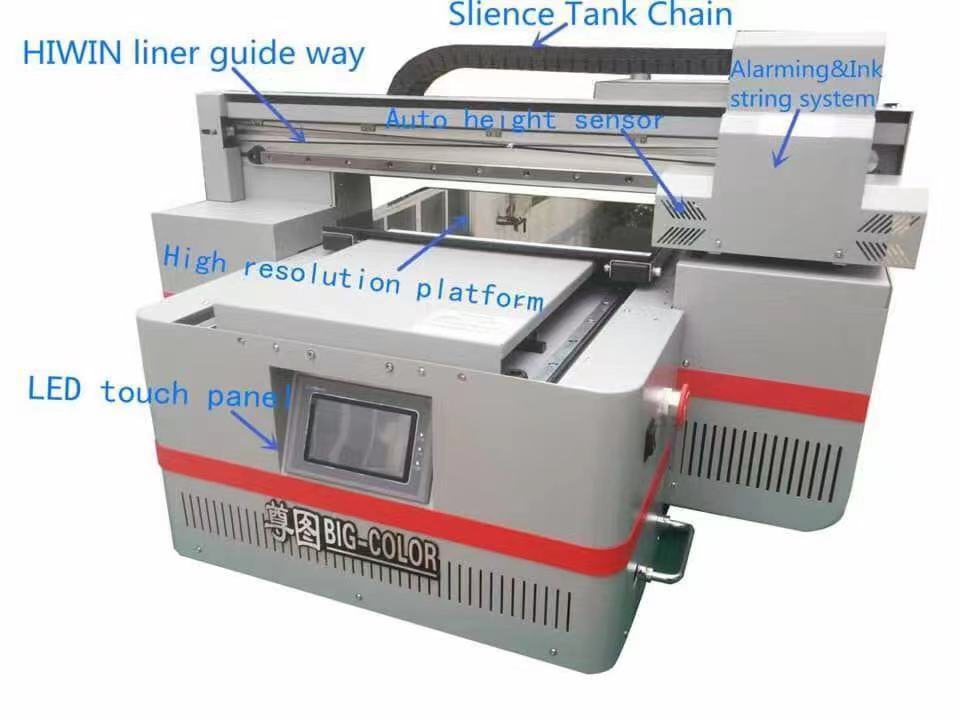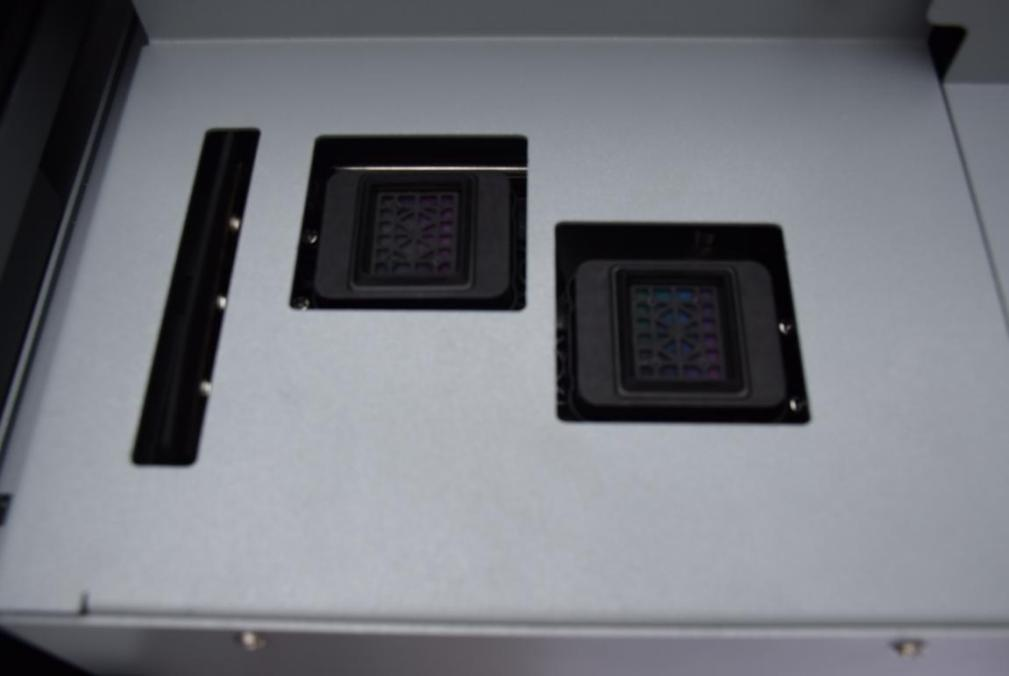 1.high precision , high quality platform accurate calibration.
2.Made by imported raw materials,with good quality and use long life now.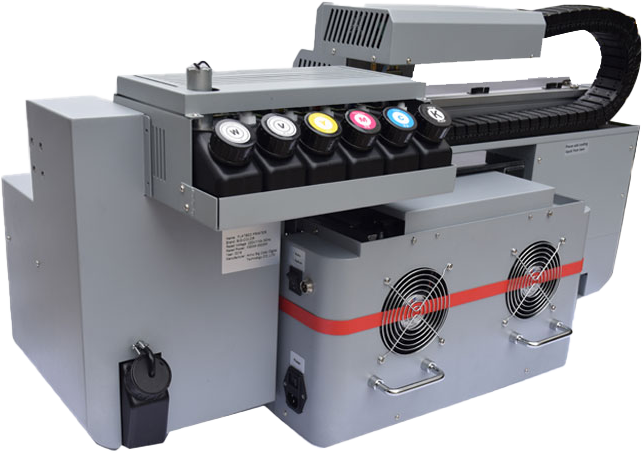 3.The color white varnish lamp, precise scale adjusts the temperature of the lamp, making the material dry faster and more operational.
4.The design of the suction fan can reduce the temperature under the high operation mode of the machine, which is more efficient and reliable.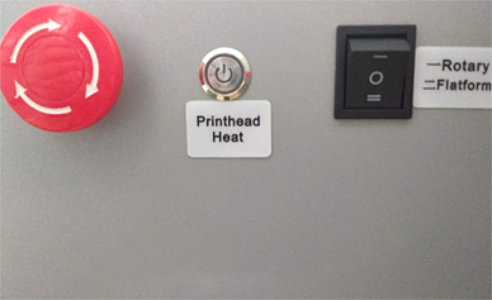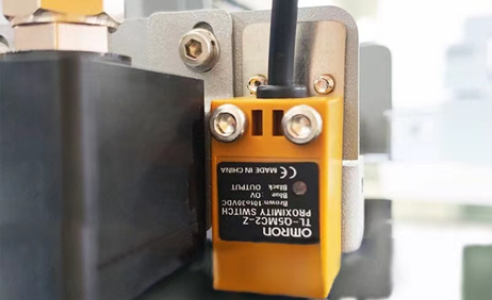 5.The print head heating function can make the print head in a humid environment in different environments, protect the print head more effectively and work easier.
6.Automatic detection of printing height, humanized design, accurate height measurement, more convenient printing and efficient printing which can meet your printing needs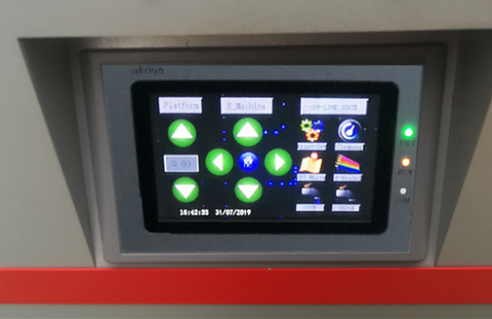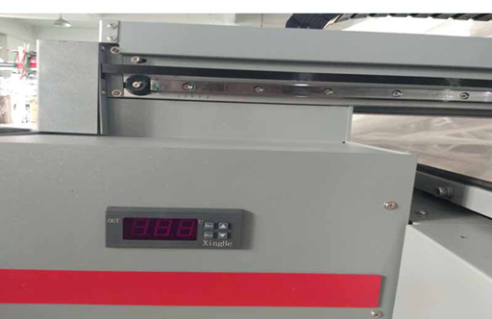 7.LED teach panel Manual screen, convenient operation, reasonable design.The print head can be adjusted to moved by pressing the button,which is very convenient.
8.The temperature control system of the water tank can reflect the temperature on the display for reasonable adjustment,and up and down can adjust the size.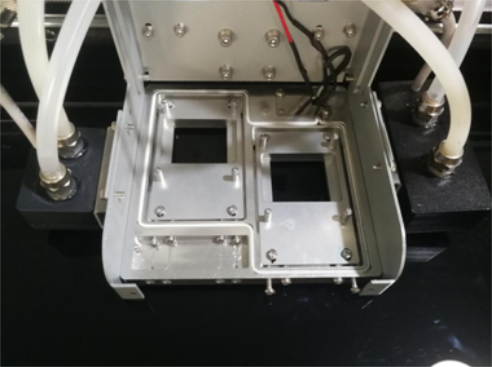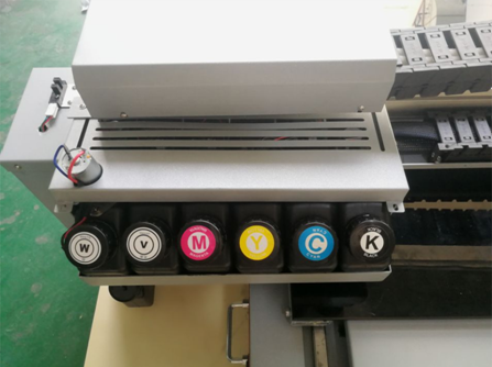 9..CNC Aluminum carriage Not easy to deform, high temperature resistant, corrosion resistant
10.Six colors of CYMK + white + varnish,the mixing with white strring,so that the ink will not solidift
---
---